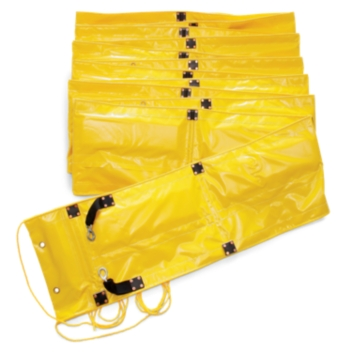 PIG® Oil & Debris Containment Boom - BOM302
Durable, UV-resistant booms contain oil spills on calm waters to keep them from spreading.
15.3m L x 45.7cm H

340

 kg Breaking Strength
Ideal for Bays, Harbors, Breakwaters
Description
Floats to surround and stop oil spills or debris from spreading on calm waters
UV-resistant, PVC-coated shell is packed with light-weight foam
Above-water height of 15.3cm; submerged depth of 30.5cm
Quality construction provides 

3,402 kg 

actual breaking strength
Highly visible yellow color for instant recognition in emergency situations
Snap hooks secure and overlap booms
Add PIG Oil-Only Booms to absorb petroleum-based pollutants
Specifications
Style:
Non-Absorbent Boom
Color:
Yellow
Dimensions:
15.3m L x 45.7cm H
Breaking Strength:

340 kg 

Current Type:
Calm Water & Low Current
Intended Use:
On Water
Where to Use:
Bays, Harbors, Breakwaters
Sold as:
1 each
Weight:
29.9 kg
# per Pallet:
8
Composition:
Boom - PVC-Coated Nylon
Reinforcements - Polyester
Application:
Spill Response
Draft Dimensions:
30.5cm

Freeboard Dimensions:
15.3cm


Additional Information
National Oil Spill Disaster Contingency Plan (NOS-DCP) 3.3.15 (c)
Coastal state governments and state pollution control boards shall maintain adequate quantity of basic pollution response equipment like deflective booms, fence booms, spray equipment along with specialised equipment for beach protection and shoreline cleanup.
National Oil Spill Disaster Contingency Plan (NOS-DCP) 8.3.2
Conventional oil spill response booms and skimmers may be used to contain and recover spills of floating chemicals.