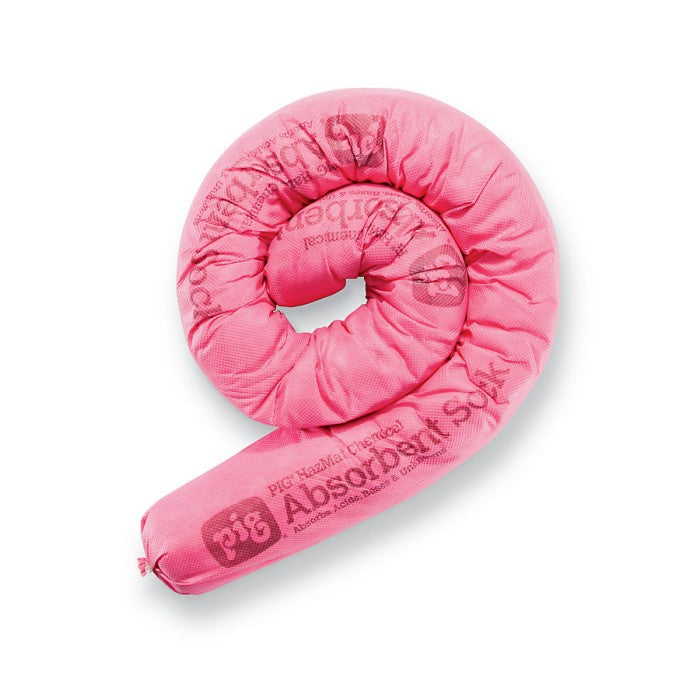 PIG® HazMat Chemical Absorbent Sock - 124CR
Contain and absorb small spills of concentrated chemicals including acids, bases or other corrosives.
8cm Dia. x 117cm L

Absorbs up to 36 L/box
12 socks/box
Description
Absorbs acids, bases, corrosives, chemicals and unknown liquids, even those with high concentrations like 98% sulfuric acid and 30% sodium hydroxide
Chemical-resistant sock won't degrade or cause a dangerous reaction upon contact with corrosive spills
Excellent for quickly diking and stopping the spread of chemical spills; for diking larger chemical spills, consider our larger diameter PIG HazMat Dikes
Polypropylene skin resists chemicals and tearing; reduces dust and holds in liquid, even when saturated
Polypropylene filler is highly absorbent for containing corrosive or reactive spills
Pink color is easily distinguishable to assure workers use the correct sock during a spill emergency
Can be incinerated after use to reduce waste
Nobody knows more about socks than New Pig - we invented them!
Specifications
| | |
| --- | --- |
| Fluid Absorbed: | Acids; Bases; Unknowns |
| Color: | Pink |
| Dimensions: | 8cm Dia. x 117cm L |
| Absorbency: | Up to 36 L per box |
| Absorbency per: | Up to 3 L per sock |
| Filler: | Polypropylene |
| Skin/Outer Mesh: | Skin - Polypropylene |
| Sold as: | 12 socks per box |
| Weight: | 5.1 kg |
| # per Pallet: | 30 |
| Application: | Leaks & Drips, Maintenance |

Additional Information
Product Data Sheet (PDS)
Safety Data Sheet (SDS)
Chemical Compatibility Guide
Dock Workers Rules (Safety, Health and Welfare), 1990, 81 (b) (ii)
If the cargo is a corrosive substance...suitable absorbent or neutralizing materials shall be used in cleaning the spillage.
Hazardous And Other Wastes (Management and Transboundary Movement) Rules, 2016, Chapter 2, (6), (a)
The occupier shall take all the steps while managing hazardous and other wastes to contain contaminants and prevent accidents and limit their consequences on human beings and the environment;