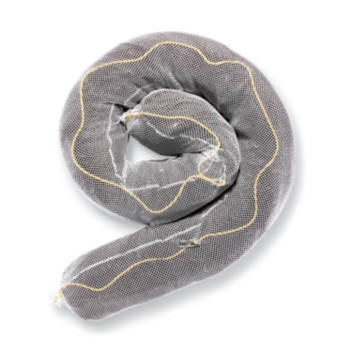 PIG® Dark Oil-Only Absorbent Boom - BOM414
Blends in with surroundings as it confines and absorbs oil and fuel spills on water.
20cm Dia. x 3m L

Absorbs up to 181.6 L/bag
4 booms/bag
Description
Absorbs and retains oils and oil-based liquids - including lubricants and fuels - without taking in a drop of water
Booms float at surface for easy retrieval, even when saturated
Dark color makes booms less noticeable when deployed on water
Spunbond polypropylene skin is UV resistant up to 4 months
Tough outer mesh lets fluids easily pass through to filler material
Rope running along length of boom withstands up to 400-lb. loads, adding strength for deployment and retrieval
Strong, zinc-plated carbon steel attachment clips and rings allow you to link booms together for greater length
Can be incinerated after use to reduce waste or for fuels blending
Specifications
Fluid Absorbed:
Oils, Fuels, Other Oil-Based Liquids Only
Color:
Black/White
Dimensions:
20cm Dia. x 3m L
Recycled Content:
98% Pre-Consumer Recycled Polypropylene Filler
Absorbency:
Up to 181.6 L per bag
Absorbency per:
Up to 22.7 L per boom
Clip/Ring:
Zinc Plated Carbon Steel
Filler:
Polypropylene
Skin/Outer Mesh:

Skin - Polypropylene

Outer Mesh - Polyester

Sold as:
4 booms per bag
Weight:
20.9 kg
# per Pallet:
8
Application:
Spill Response

Additional Information
Product Data Sheet (PDS)
Safety Data Sheet (SDS)
Instructions for Using PIG® Absorbent Booms
Dock Workers Rules (Safety, Health and Welfare), 1990, 78 (1)
Where there is a risk of explosion from electrical equipment....non-sparking tools shall be provided and used in such atmospheres.
National Oil Spill Disaster Contingency Plan (NOS-DCP) 8.3.2
Typical techniques involve: Application of sorbents either loose, as mats or in "sausages". As many low viscosity chemical spills rapidly spread to cover a large surface area, these techniques are most applicable if the spread of the chemical can be confined.