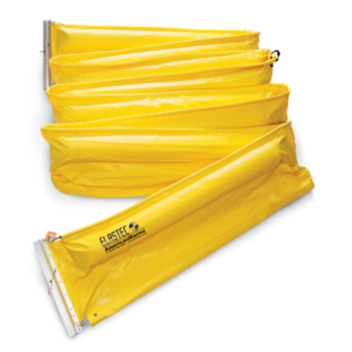 Optimax II Boom - BOM119
Contain oil spills and debris in rough waters with the 2,903 kg breaking strength of durable non-absorbent floating Optimax II Booms.
15.3m L x 50.8cm H
2,903 kg Breaking Strength
Ideal for Rivers, Estuaries, Ports, Harbors
Description
Floating spill containment boom corrals liquids and debris while its skirting blocks pollutants underneath
Vinyl-coated, UV-resistant polyester withstands up to 12-month deployment
2,903 kg breaking strength
Link multiple units using aluminum universal slide connectors
Nylon handles allow single-person handling and anchoring
Conforms to OPA-90 specs for protected water and fast currents in streams, rivers, estuaries and near-shore ocean
Add PIG Oil-Only Booms to absorb petroleum-based pollutants
Specifications
Style:
Non-Absorbent Boom
Color:
Yellow
Dimensions:
15.3m L x 50.8cm H
Breaking Strength:

2,903 kg 

Current Type:
Strong Current
Intended Use:
On Water
Where to Use:
Rivers,

 

Estuaries, Ports, Harbors
Sold as:
1 each
Weight:
50 kg
Composition:
Skin - PVC
Flotation - Polystyrene
Chain - Galvanized Steel
Application:
Spill Response
Draft Dimensions:
30.5cm

Freeboard Dimensions:
20.3cm


Additional Information
National Oil Spill Disaster Contingency Plan (NOS-DCP) 3.3.15 (c)
Coastal state governments and state pollution control boards shall maintain adequate quantity of basic pollution response equipment like deflective booms, fence booms, spray equipment along with specialised equipment for beach protection and shoreline cleanup.
National Oil Spill Disaster Contingency Plan (NOS-DCP) 8.3.2
Conventional oil spill response booms and skimmers may be used to contain and recover spills of floating chemicals.